On Saturday 15th April, clans folk and friends gathered on Culloden Moor for the Annual Memorial Service to remember the fallen on the battlefield 271 years ago.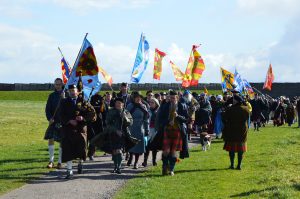 The Service , organised by the Gaelic Society of Inverness, attracts hundreds of people who gather at the Memorial Cairn on the battlefield.
The Clan Chattan Association laid a wreath on behalf of Clan Mackintosh and the other Clans of the Chattan Confederation. Over 40 wreaths and tributes were laid around the Cairn.
The event marked a double anniversary. This year is the 80th Anniversary since the National Trust for Scotland began looking after the Battlefield.